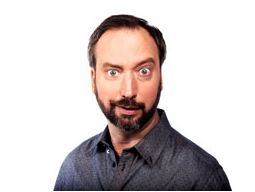 Tom Green performs at Vinyl inside the Hard Rock Hotel. That might tell You a little about the show already. This show is not for Everyone. If You know nothing about Tom Green then You are not going to go anyway so I do not need to tell You not to go. This show is for People that know His material and like it. You might not like Him and ruin the show for others so study some of his material before You go if You don't already know You love it.
"It's fun," he says of "Tom Green Live." "I love interviewing people and the long format interview show. It's a real great time. It's not like an over-the-top, outrageous show, compared to my old (MTV) show, but I think it's a really funny and interesting show."
At times during Green's stand-up, fans will feel as though they have returned to the turn of the century as he performs his popular — and still funny — jokes from his youth.
"It's the energy of the audience," Green said of his stand-up show. "It's a nice sort of experience to be a part of the comedy as opposed to just watching it on television."
The Tom Green Show performs at 7:30 p.m. on select dates at Vinyl at the Hard Rock Hotel in Las Vegas. Tickets from $44.