You have to use a system if You are going to be successful in betting sports, either in Vegas or online. There are some differences in online betting and brick and mortar Sports Books that You find in Las Vegas. Those differences have to do with how quickly You can shop for the best line and juice for Your bet and also the type of bets available but a system is needed in either case.
Should I use my own system or buy one from a sports handicapper?
If You like to study day and night and keep up with all the latest trends, past performances, injuries and all the pertinent data involved in sports there is nothing wrong with making Your own system. Always test Your system over at least 100 games, those can be past or future games but never put real money on an unproven system no matter how great it looked the first time You ran a test.
If You use Your own System or a bought professional system, You must have the proper tools to make a good sports bet. What good is all that work if You end up placing Your bet without shopping at least three sports books? What if You found out that the same bet was half or even one point better right across the street or at another online sports book? Imagine placing Your bet on Kentucky at -13 at Harrah's in Las Vegas and that game ended up being won by Kentucky by 12 (You lost) then You find out that Treasure Island had that same bet at Kentucky -12 and MGM had it at -11.5 so if You had the proper tools You would have seen that You could have walk across the street to the Mirage (MGM owned) and bet that same bet but had a winner. Having the right information that is live and accurate is every bit as important as the system itself. Knowing the betting lines makes all the difference in the World. There are plenty of times that a line opens and immediately moves and there are times that it opens at one number and stays there for a full week, You have to have the information Live and Accurate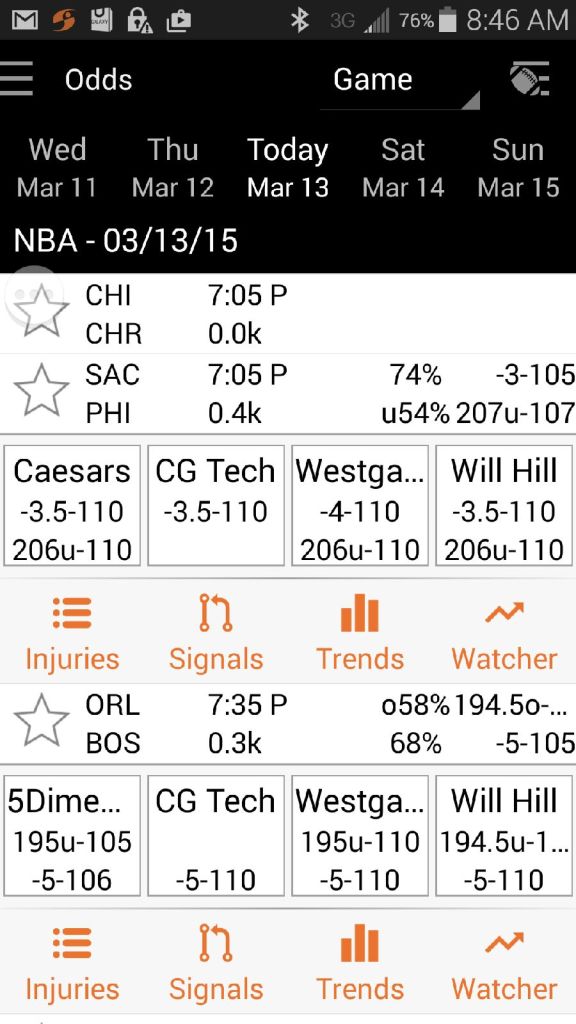 actual screen shot of my app showing live odds from Vegas sports books[/caption]