Pinball Hall of Fame Free Las Vegas Attractions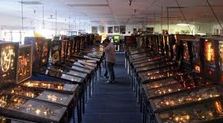 Pinball Hall of Fame is a Free Las Vegas Attraction. Not many People have ever heard of it but most Everyone has someone they are traveling with that is interested in seeing it.
Located at 1610 East Tropicana Ave, Las Vegas, NV 89109
The Pinball machines at this museum can be played or just looked at. It is very interesting to see these machines if You grew up in the pinball era, long before video games. The machines You will see will bring back many memories and to the pinball lover this is a priceless experience.

Comments
comments