M Resort Spa Casino Henderson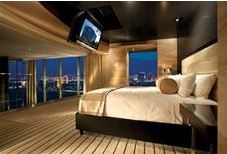 M Resort Spa Casino
12300 Las Vegas Boulevard South
Henderson, NV
Yes, M Resort has a Las Vegas blvd address but is in Henderson, Nv. If You drive south on Las Vegas blvd the last major hotel You think You will see is the Mandalay Bay, right? Wrong! Keep going just a few more miles and You will see South Point then a few more miles You will see M Resort Spa. This Hotel is not known by many Vegas Visitors but it is known to many Californians. This is a 5 star property that has a 4.5 rating for some reason. It might be the nicest property all over Vegas, it is a must see, even if You do not stay here.

Comments
comments