Jeff Civillico The Quad Las Vegas Show Review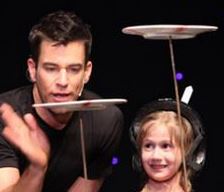 Jeff Civillico is performing at the The Quad Hotel and Casino, Las Vegas.
This is a kid friendly show, You do not get a lot of that at the Center Strip so keep that in mind if You are traveling with Kids. Jeff Civillico is a little bit of comedy, a little bit of juggling, maybe some magic and lots of interaction. His interaction with the kids is the best part of His show and that is how He dictates how the show will proceed. Maybe He has a complete plan for His show but the plan goes out the window if a kid takes it in a new direction. He calls it comedy-action and after seeing it, I think that is a good description. This is good clean fun in the land of Sin, so it is very welcomed.


Comments
comments