Brad Garretts Comedy Club MGM Las Vegas Show Review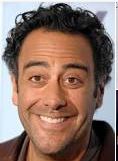 Brad Garretts Comedy Club is showing at the MGM Grand Hotel and Casino, Las Vegas.
You will remember Brad from Everyone loves Raymond, He played the little brother to Raymond and was a Cop and really was the funniest Person on the Show. You might wonder why this show would be considered an "adult" show. It's not for nudity it is for language and content. It is hilarious but be warned if You embarrass easy, You better drink a lot before the show or don't go at all.
Brad Garretts Comedy Club Tickets

Comments
comments