Andy Lewis will set world record slackliner feat from the Las Vegas Mandalay Bay Oct 16, 2013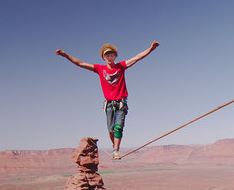 Why did it say "will set world record" instead of "attempt world record". If this was something He couldn't do, Las Vegas would not even let Him attempt it. This will be a world record only because it will be done in an Urban setting, thus a new world record. The feat is a piece of cake for the half time super bowl sensation Andy Lewis. The half time show was a big hit and had People talking about it the following week after the super bowl but this Las Vegas Mandalay Bay stunt is hardly going to be mentioned an hour after it is completed.
The show starts at 2pm, October 16, 2013 and is free. Go to Mandalay Bay valet parking area for viewing.

Comments
comments